LEOP, the Launch and Early Orbit Phase, is a crucial phase for every satellite mission. The Flight Control Team needs to be familiar with a multitude of activities to ensure that the satellites reach their target orbit and all instruments function nominally. The team trains these scenarios months in advance. These training campaigns are led by experienced Simulation Officers, such as Sjut from Telespazio VEGA Deutschland, currently supporting the team at CNES.
Sjut, what exactly is your current role at our client site CNES?
"I am one of the three Simulations Officers provided by industry to train the Flight Control Team for the upcoming LEOP."
How long are you going to support the client?
"I arrived in April in Toulouse, will support the launch and stay until early August as Launch Support. This is when the four satellites are handed over to the Flight Control Team in Oberpfaffenhofen, where routine operations are managed from."
Normally, you work at the German Space Operations Centre in Oberpfaffenhofen. How did you transfer from one role to another?
"This is correct. I have previously supported Simulation Campaigns at GSOC where I work as Spacecraft Controller. This means I know both worlds, Operations and Simulations. But I always wanted to be involved a little more and to grow. When our client CNES expressed the need for support, my line manager asked me if I wanted to move to Toulouse for a couple of months and I said yes!"
How did you prepare for this task?
"First I had to get to know the simulator. Telespazio VEGA Deutschland has developed the Galileo Constellation Simulator, or CSIM, as we call it. I received a training in the company's Headquarters in Darmstadt and later also a practical training at CNES."
How do you run a Simulation Campaign?
"Usually, the Flight Control Team trains several times a week over a period of a couple of months to prepare for all possible nominal and contingency scenarios. During LEOP, the satellites will need 24/7 operations which is why there are three Flight Control Teams to operate the four satellites during this time. All three teams should be trained on all major scenarios. Ever since May, we held approximately three simulations per week to accommodate everyone.
What do you train in such Simulation Sessions?
"We would train the ideal situations of the major scenarios of the LEOP, so that the Flight Control Team gains confidence in the procedures, the team collaboration and the telemetry. For example, we would run through separation, acquisition of signal and so on."
And what about contingencies?
"We train these too: The majority of contingency scenarios that we prepared for the Flight Control Team are equipment failures. But we would also train unusual scenarios, for example the satellite being hit by a piece of space debris. Figuring out what exactly happened only by looking at telemetry data and communicating within your team is the real challenge."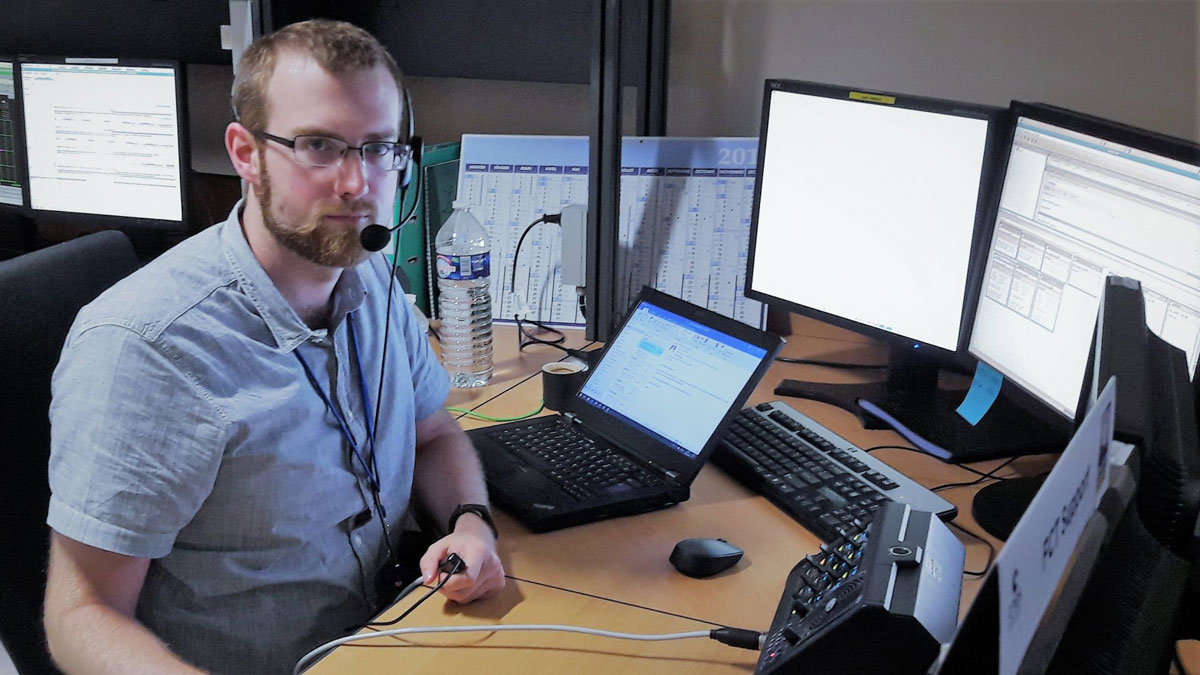 Did you have a favourite Simulation session so far?
"I did indeed. We trained one scenario where one of the four satellites does not send a signal after separation as it did not power up. This session was especially interesting as it allowed for the representatives of the GSA, the European Global Navigation Satellite Systems Agency, to be present during the simulation and to be involved in the escalation of the contingency. At some point, the fact that one satellite might be "lost" transitioned from being an operational issue into a management issue."
This sounds like your work is a lot of fun. What will you tell your colleagues at GSOC when you come back?
"That it was the right decision to be curious and to develop myself professionally. The tasks here at CNES were challenging and exciting. And I really enjoy working together with the local teams at CNES, coming from different agencies and industry."
Thank you very much for your time, Sjut!
---
About Galileo
Galileo is Europe's own global navigation satellite system, providing a highly accurate, guaranteed global positioning service under civilian control. It currently consists of 22 satellites. Once complete, it will comprise 30 satellites. On 25 July at 13:35 pm CEST, four satellites will be launched on board an Ariane 5 rocket from Europe's Spaceport in Kourou, French Guiana to join the constellation.
Further Reading and how to watch the launch
Read more about how Telespazio and Telespazio VEGA Deutschland in particular contribute to the Galileo programme. The launch will be live streamed on www.esa.int.