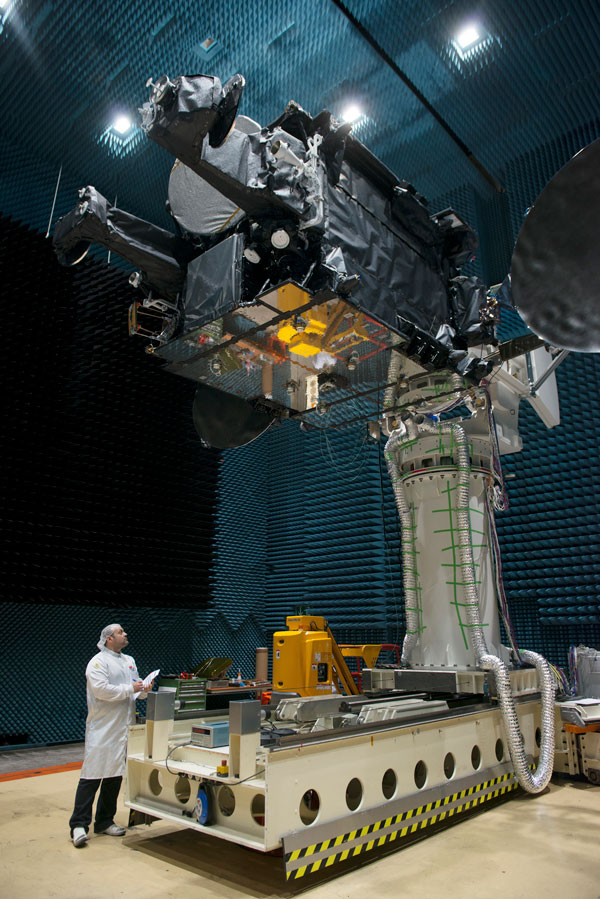 Telespazio VEGA Deutschland has been supporting the preparations prior to the launch and will be providing the team of 24/7 Spacecraft Controllers (SpaCons) for the Launch and Early Orbit Phase (LEOP) and the In-Orbit-Test (OIT) Phase, under a contract of DLR, the German Aerospace Centre. For routine operations, the satellite will be then handed over to the Spanish satellite operator Hispasat.
In particular, the Telespazio SpaCon team was providing support to the trainings, such as simulations of various scenarios, manoeuvres, LEOP rehearsals and trainings of possible contingencies on board an on ground. The team was also closely involved in the spacecraft validation tests, controlled from GSOC, during which all on-board satellite systems and ground systems were tested. The training of the SpaCon team for these tasks was developed and performed by an experienced SpaCon Team Leader in Telespazio VEGA Deutschland.
About SmallGEO and Hispasat-36W-1
The Hispasat 36W-1 constitutes the first mission of the SmallGEO platform, developed by OHB System AG (Germany) with the European Space Agency and HISPASAT. The satellite will provide flexible broadband coverage over Europe, the Canary Islands and the Americas.
The SmallGEO platform line offers satellite operators an entirely European solution in the smaller telecom satellite market by speeding up the production and testing processes, reducing costs and broadening the range of design options.
---
Further Links