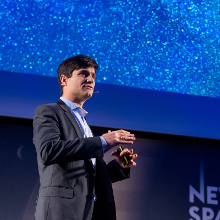 The second NewSpace Europe conference was held in Luxembourg on 27-28 November 2018. The Telespazio VEGA Deutschland NewSpace Team showed a strong presence, discussing opportunities with leading commercial space companies in attendance. Telespazio VEGA Deutschland was among over thirty companies invited to share perspectives, successes, challenges, and plans for the future to an audience eager to see the new space economy flourishing. As a prominent event sponsor, the company hosted one of the lunch breaks. Guillaume Tanier, Product Manager at Telespazio VEGA Deutschland, elaborated on the latest initiatives with the ENABLE product while attendees sampled salads, hot dishes, and perfectly coiffed desserts.
Various themes emerged from the presentations, panels, and 'quickfire' talks, primarily held on the main stage for the over 200 attendees. Founders, CEOs, and business development leads urged for a shift in perspective – "space should be a commodity", "risk takers are needed to breakout", "new space companies need to really invest in marketing and informing the public on what they can do". A positive outlook prevailed despite some voiced concerns of a new space 'bubble' and sensitivity to failure. Investors and start-ups sought to close the gaps between them and legal experts highlighted the regulatory hurdles ahead.
Luxembourg was frequently cited as a shining example of a government taking risk and becoming a catalyst for growth in the sector. ESA Director General Jan Wӧrner gave a colourful 'fireside' talk on ESA's new space involvement, peppered with humorous reflections on past initiatives and how we can learn from them. NASA veteran Pete Worden pressed space agencies to think outside the box and establish a continued stream of renewal and diversity in their teams.
The closing keynote speech of the conference, brilliantly delivered by Alvaro Alonso, Business Development Manager at Telespazio VEGA Deutschland, synthesized the main takeaways of the event well: new space start-ups should focus resources on their core business and work together with other companies in the industry to achieve low cost, efficient space access, enabling profitable businesses and a sustainable space ecosystem. Taking the example of the airline industry, where a kaleidoscope of companies brought the engineering feat of air travel into just another facet of daily transportation, we should strive to make space just as "boring", for our children.