The International Astronautical Congress is a global event for a space and science professionals, bringing together more than 4000 visitors from around the world. This year, it will be hosted in Bremen, Germany from the 1st-5th of October 2018. The 2018 conference and exhibition will reflect the current changes of the diversifying space sector. A new format of "Special Sessions" will give a platform to new speakers, following the 2018 motto "IAC 2018 – involving everyone".
Conference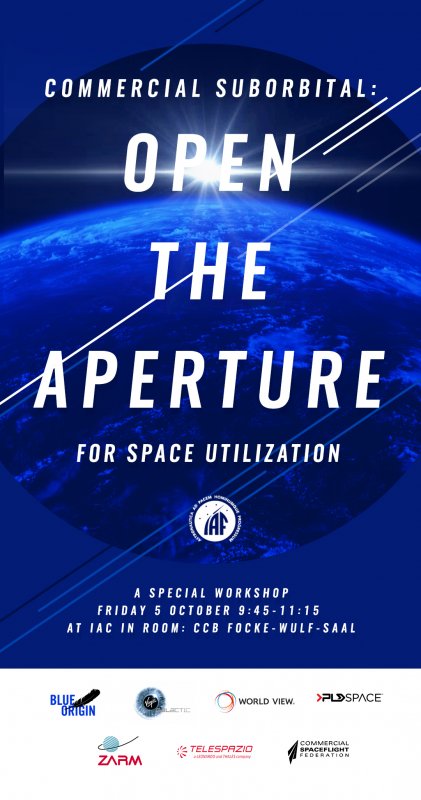 The core of the five-day IAC event is its conference. With more than 180 sessions, ranging from inspiring key note speeches, panel discussion, scientific sessions up to the new format of Special Sessions with presentations from a new generation of space experts, IAC offers a broad range of topics for everyone. Telespazio VEGA Deutschland and Telespazio SpA have contributed to the programme, each being members of the IAF committee, and will give presentations on topics like Mission Operations – and concepts -, Simulation and Training.
Within the new format of the Special Sessions, Telespazio VEGA Deutschland will be hosting and moderating an exciting Panel Discussion on "Commercial Suborbital: Opening the Aperture for Space Utilization", with VIP guests from Blue Origin, Virgin Galactic, PLD Space and World View Enterprises. Follow the Special Sessions on social media via #sps2018.
The full conference programme is available on the Website of the International Astronautical Federation. For a full overview of all Telespazio Group Presentations, please refer to our dedicated Telespazio Conference Programme.
This year's IAC will host also a Public Day, taking place on 3 October, Germany's Unity Day. A dedicated programme has been created, with a live call to the International Space Station and the opportunity to meet astronauts.
Supporting this theme, Telespazio will be offering an astronaut role play game for small groups at its stand, targeted at a young audience.
Meet Telespazio in the exhibition
Visitors to IAC can meet our experts and decision makers at our stand (stand number 5F 85), with high-level representatives from Telespazio SpA as well as Telespazio VEGA Deutschland.
A particular highlight on this year's stand will be our two new offerings to New Space clients. Visit us and discover ENABLE, our product suite for Ground Systems and Operations as a Service, ideal for new space ventures looking for an innovative and smart pay-per-use solution to empower their business.
Discover also ELEVATE, our one-stop-shop for flights to suborbital space, ideal for all space systems manufacturers in need of convenient and frequent microgravity test environments.