In 1610, the Italian astronomer Galileo Galilei used his homemade telescope to observe Jupiter and its largest moons for the first time. The four moons he discovered are still known as the Galilean satellites.
Humanity is now on the verge of observing Jupiter's moons much more closely. The JUpiter ICy Moons Explorer, or "JUICE," is launching on April 13th from Europe's Spaceport in French Guiana.
Juice will use a suite of remote sensing, geophysical, and in situ instruments to conduct detailed observations of the giant gas planet and its three large, ocean-bearing moons - Ganymede, Callisto, and Europa.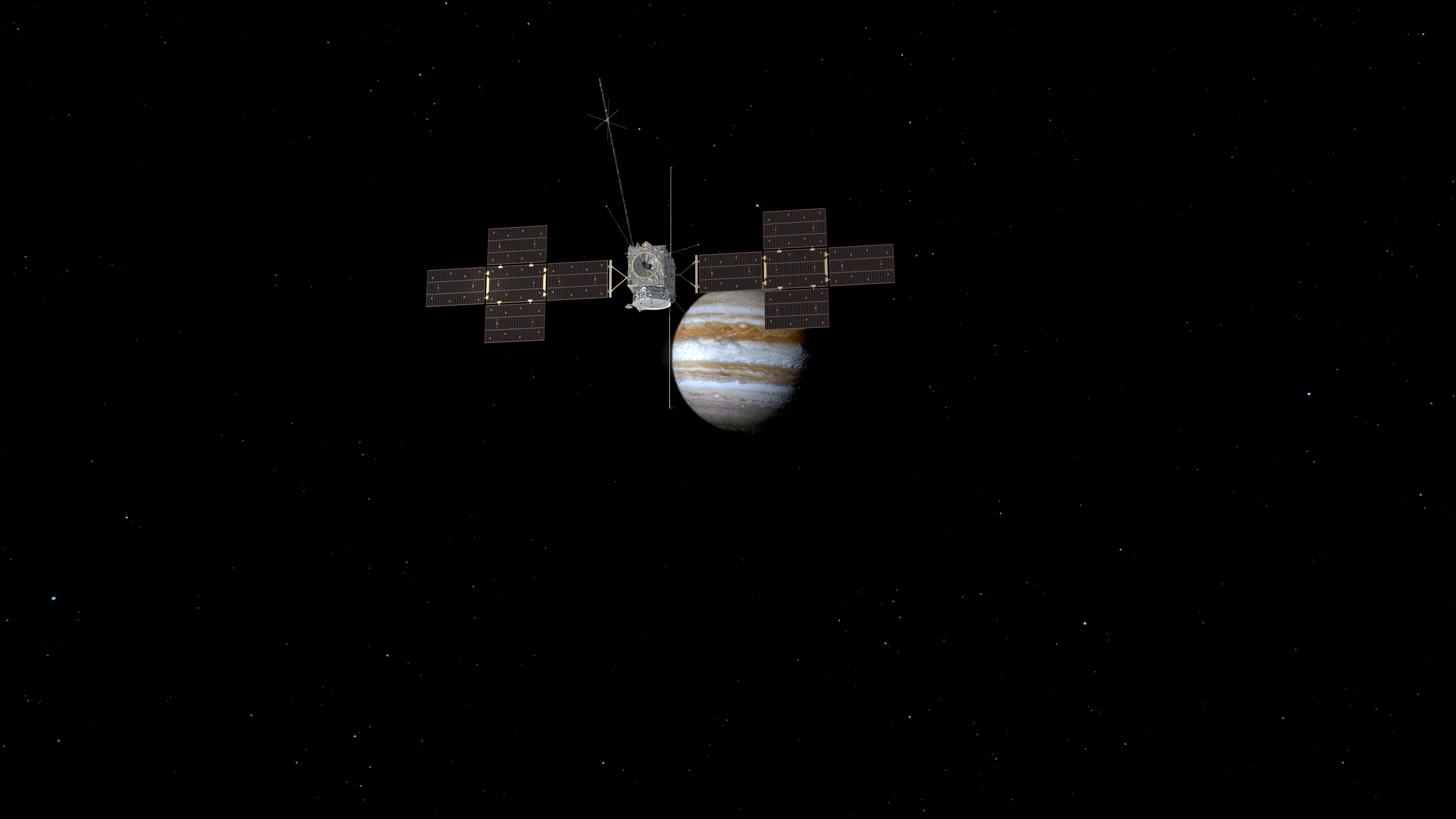 These three moons are thought to have hidden oceans beneath their surfaces, making them prime targets in the investigation of whether, how, and where life could arise in various environments throughout the universe. Juice's Jupiter tour will include numerous flybys of these ocean-bearing moons, culminating in orbit insertion around Ganymede - the first time a spacecraft has orbited a moon in the outer Solar System.
Telespazio Germany contributes to many aspects of the mission. The company has been developing the Operational Simulator, the software program that simulates the Juice spacecraft in its environment, used to train satellite operators, test potential bug fixes of the spacecraft's software, or even save a mission in an emergency scenario by providing a safe environment to experiment with radical new solutions.
ESOC's Flight Dynamics support section, through its deep space orbit determination team, reconstructs and predicts Juice's trajectory with ground station tracking data. During the Launch and Early Orbit Phase (LEOP), they assess the Ariane 5 launcher's performance by analysing tracking data and communicating their assessment to the Juice Flight Director. They remain prepared for contingencies and correcting errors to ensure a successful mission to Jupiter. Juice is also the first mission to use ESOC's new Flight Dynamics software - GODOT - as the primary operational Flight Dynamics system. Telespazio was heavily involved in the GODOT development.
The Attitude and Orbit Control Team (ATT) supports the successful launch and operation of spacecraft by performing tasks such as system verification tests, infrastructure preparation, and calibration activities. They monitor the spacecraft's attitude and handle telemetry data. During LEOP, they provide fault detection support. The team also supports Navigation, Estimation, and Control Plan (NECP) activities.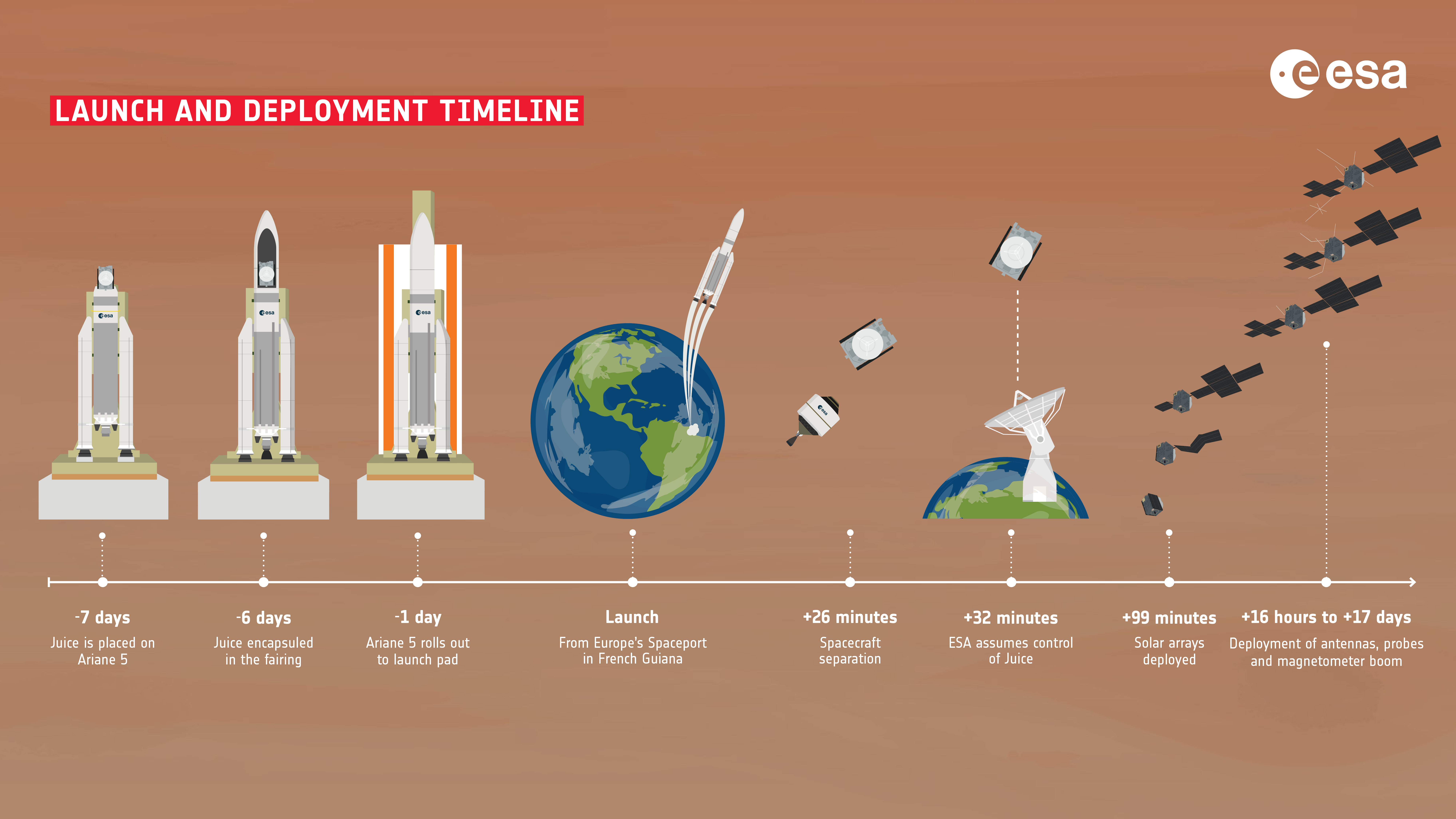 The mission is expected to provide a wealth of new information, including investigating the habitability of these moons, understanding the formation of the solar system, mapping the surfaces and interiors of Jupiter and its moons, and studying their magnetic fields to learn more about their composition and interactions with the environment around them.
The Juice mission represents a significant milestone in our ongoing exploration of the outer solar system, and its findings will undoubtedly shape our understanding of the universe for years to come.
---