31 January 2018
The company has developed a detailed commuting and mobility management programme for its staff, which is now certified.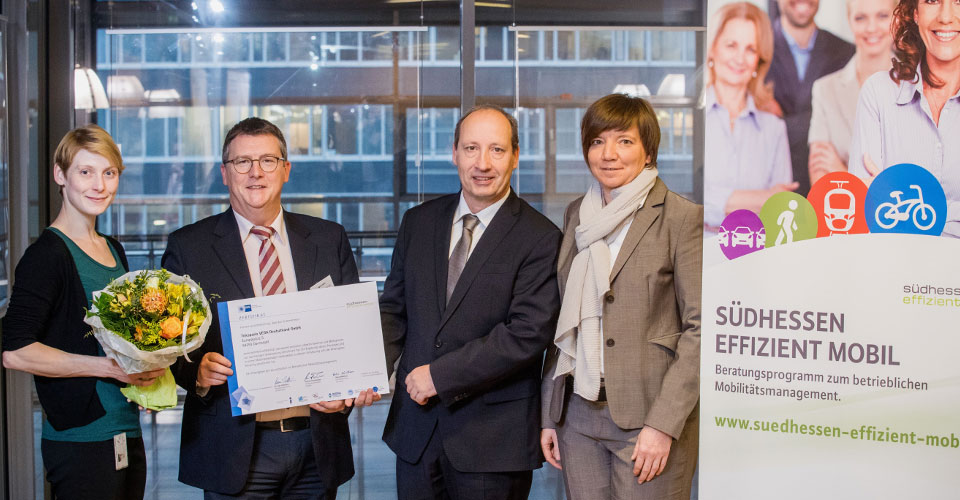 The goal of the concept was to reduce mobility cost for staff, solving specific traffic issues in the region and sustainably contribute to the protection of the environment. A tailored staff survey in which 57 % of all Darmstadt-based staff participated , led to a smart mix of measures to shape commuting, caused by Telespazio VEGA Deutschland, as effectively as possible.
Among others, Telespazio VEGA Deutschland staff receive now a discount on their annual public transportation tickets and are encouraged to cycle to work more often, for example through the initiative "Mit dem Rad zur Arbeit". On top, they can join the Job-Bike Programme, which enables them to lease their desired bike through Telespazio VEGA Deutschland and save money. The survey and analysis showed also that the international background of Telespazio's staff with over 30 nationalities required more information on mobility offers in the area, be it for public transport, parking, ridesharing, car sharing, bike rental or bike maps. All this information is now centrally and transparently available to all staff.
Telespazio VEGA Deutschland developed this commuting concept in the frame of the operational mobility management programme "südhessen effizient mobil" ('South Hesse efficiently mobile'). Cooperation partners were also the local coordinating unit of the of ivm GmbH mobility management ("Integriertes Verkehrs‐ und Mobilitätsmanagement Region Frankfurt RheinMain"/'Integrated Traffic and Mobility Management of the Frankfurt and Rhein Main areas') and DADINA.
---
Further Links